Table of Contents: Press and Read What You Need!
Today messaging is more than sending and receiving texts. Messaging has business potential that your insurance company will want to take advantage of. In fact, a report by Juniper Research indicates that by 2023, this tool will save in sectors such as retail, financial and health, up to 11,000 million dollars a year.

Although a step had already been taken in taking advantage of messaging with the ticketing system tools, it is still possible to get more out of it since there are still factors that can be improved and for that there is the Conversational Platform. But before explaining why, let's establish the basic definitions:

What is the Ticketing System?

Also called Issue Tracking System, it is a set of software that manages and maintains lists of questions, queries and incidents from the client, both external and internal to your company. Every time one of your clients has a query about your company's services, they get in touch through one of your channels and, through the ticketing system, that query is created, classified, updated and answered.
What is a Conversational Platform?
More than a tool, it is a new era in which fluid interaction between people and machines is made possible, through a natural, simple and understandable language, whether on a Web, in an App or even on WhatsApp. To achieve this interaction, the Conversational Platforms make use of Artificial Intelligence (AI) which, through the well-known Chatbots, simulates for the user the experience of conversing (by voice or text) with a flesh and blood advisor, with the The difference is that it will be available to your clients 24/7 and that you will have all their answers instantly.
The conversation level of these Chatbots can be as specific as the products or services your company offers need. This will help your customers to find the product they are looking for, in the presentation, size and color they are looking for. In other words, you will achieve a more productive relationship between your company and your customers.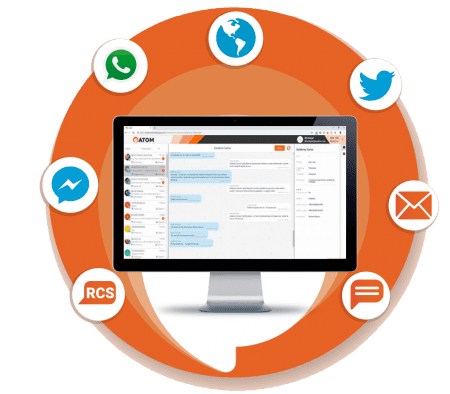 Why say Hello! an ATOM, Conversational Platform?
The first advantage that you will find in ATOM is the cost savings in hiring personnel and the response time to the client. One of the most remarkable features of ATOM is that it allows you to automate everything, therefore it will not take many people to serve hundreds of customers. Additionally, the response time is reduced from hours to no more than three minutes.
The second advantage is multi-channel. Now you can have all your channels (WhatsApp, Messenger, Facebook, Email, etc.) connected to each other and serve your customers without having to change channels, even if your company is a Fintech, you can allow your customers to make more transactions common, via whatsapp in the safest and easiest way possible.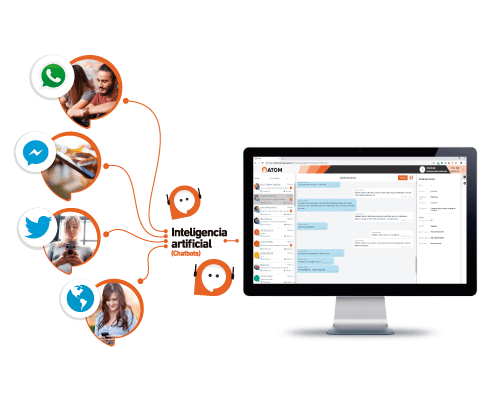 Other great advantages of ATOM Conversational Platform are:
Classify incoming traffic: sales, customer service, old customers, new customers, product lines, etc.
It allows you to send follow-up messages via WhatsApp, in bulk or according to the customer classification you choose.
It allows you to generate automatic tasks and keep track of them.
Make conversations with any customer visible instantly, on all channels.
It saves the information of each client and makes intelligent routing, so that the conversation picks up where it left off, instead of asking the client for the document number every time they write to you.
It can be integrated with your company's CRM, so that they are automatically synchronized via chatbot.
Why say goodbye to the Ticketing System?
Because response times can reach up to 72 hours, which often means lost sales.
Because by not making use of AI, you force your customers to start each ticket from scratch, which generates frustration instead of satisfaction.
Because they are increasingly obsolete systems that more and more competitors are updating.
Conclusion
Although the ticketing systems were useful to prioritize and systematize customer questions and requests, today we live in a new era, the conversational era, in which intelligent routing via Chatbots reduces customer waiting times, thus that increases the conversion almost three times and saves money in hiring.
Do you want to reduce response times and increase your company's sales via chatbots? Click here.