Table of Contents: Press and Read What You Need!
While it is true that internet banking has made it possible to connect customers and mobile banking has made it easier to carry out transactions in real time, conversational banking, that is, chatbots for banks through WhatsApp or Facebook Messenger, further simplify the processes for users, to the point that they visit the bank or financial institution less and less. The key? automated chatbots with artificial intelligence.
In this blogpost we show you how chatbots help the financial industry.
Benefits of conversational AI in banking
The automation of banking using artificial intelligence is part of a technological revolution that has marked the financial services industry to eliminate manual interventions, automate repetitive tasks and allow customers to bank transactions a click away.
Chatbots for banks with artificial intelligence allow to carry out more friendly transactions on digital platforms such as WhatsApp or Messenger, where users interact often and the costs are cheaper.
Financial chatbots have many advantages, including:
»Conversational banking reduces costs
Studies agree that conducting a digital banking transaction is cheaper than by phone. The cost of a transaction through a mobile device has an average cost of $ 0.04, while the other $ 3.80, according to the specialized magazine Chatbots Magazine.
»Financial procedures by WhatsApp
The constant learning of chatbos for banks through artificial intelligence, allows to better understand the needs of customers and provide them with a personalized experience and on platforms that consumers prefer, such as WhatsApp, this makes the process more agile and less dependent on human interventions. That is, go for complete cases.
» Chatbots for banks: Online assistance 24/7 WhatsApp
Customers today demand an active and immediate service and this is one of the great benefits that conversational banking offers: chatbots for banks available all the time.
» Secure transactions with financial chatbots
Artificial intelligence reduces the risk of fraudulent transactions because financial chatbots are capable of detecting anomalies or fraud.
Bot and banking: types of chatbots in the financial industry
The banking industry has revolutionized with the arrival of banking bots dedicated to solving different requests and procedures from a mobile device. The chatbots for banks on WhatsApp or Messenger are intelligent and capable of solving anything from a simple question to allowing customers to save.
► Banking chatbot for customer service
From branches to bank bots, customers now find quick responses and online support 24 hours a day. It becomes less necessary to visit a bank branch to resolve a question.
► Bot for banking services
Customers can now open a bank account or request a banking service from WhatsApp or Messenger. Bank chatbots are trained to carry out the entire process.
► Banking chatbot for collection
It is possible to take your conversational banking to a transactional level and incorporate collection management for credit cards or loans with the help of chatbots for smart banks.
► Chatbot for loan applications
Bank chatbots have helped turn cold leads into pre-qualified leads to apply for home loans or personal loans.
► Chatbot to save money
This type of bot helps users save money, reduce expenses in their day-to-day life, and provide a follow-up of their transactions, through messages on WhatsApp or Facebook Messenger.
Chatbots for Banks: Tips for Building a Financial Chatbot
To build a banking chatbot, many elements have to be taken into account, but the main thing is to provide a user-friendly experience. Do not fall into spam and guarantee all security conditions. Further:
Simple and direct conversation interface. The main services that clients request are: balance inquiry, credit card statement, loan application, review transaction history, make a transfer.
Friendly language: while it is true that a financial or banking institution is serious, it does not mean that your chatbot should be too. Remember that your customers are interacting with your company on a social platform where and therefore they expect a bot with natural language, personality and even a touch of humor.
Direct shortcuts, do not give your clients long flows or difficult options to be able to reach what they want.
Remind users that they are in control.
Examples of chatbots for banks
At ATOM we help different financial institutions and banks in the region to make them a conversational and intelligent bank, capable of solving their clients' procedures in an easy and agile way. Here are some successful chatbot use cases: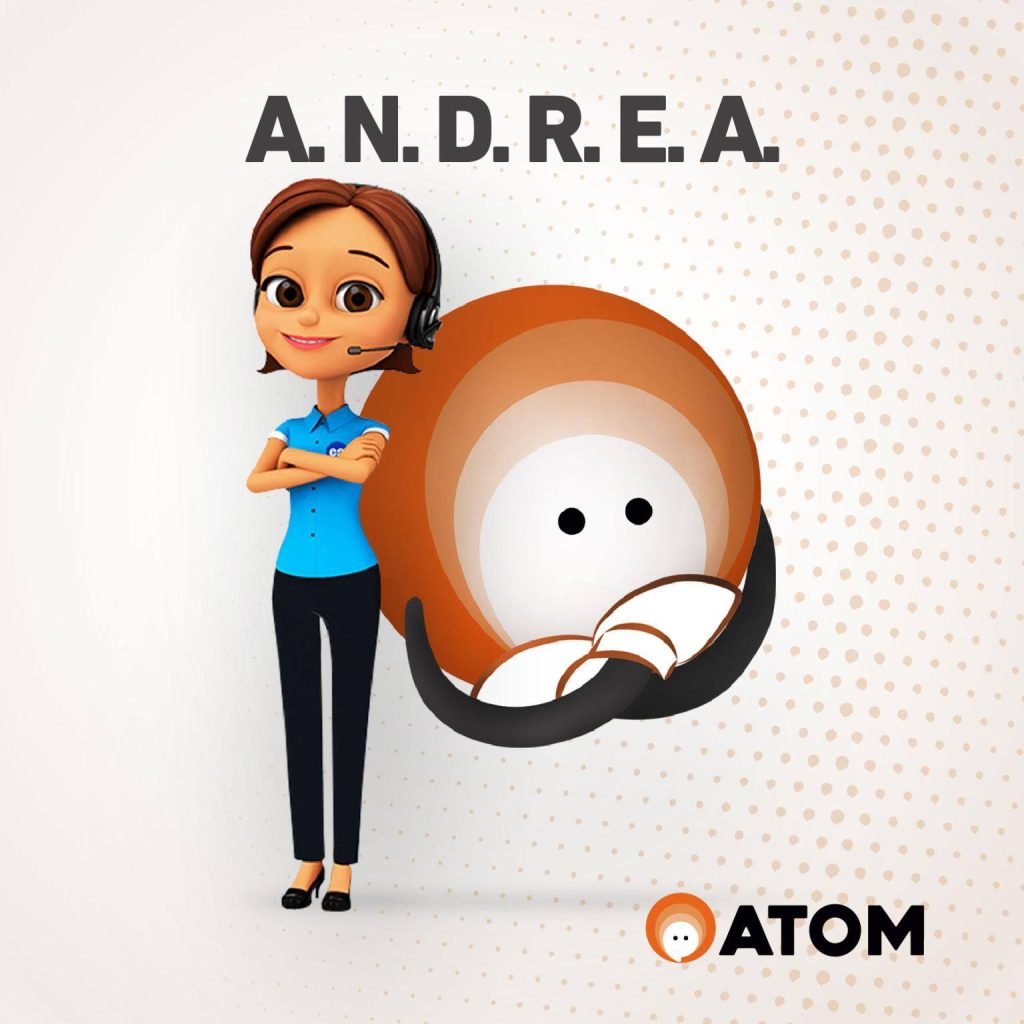 A.N.D.R.E.A is the National Automatic Response Assistant of the Caja de Ahorros banking entity, and in charge of serving its clients quickly, effectively and safely. It is capable of carrying out banking procedures from WhatsApp and Messenger.
SARA is the virtual assistant of Banco Ficohsa, she is in charge of providing its clients with information related to inquiries about bank movements of the account or credit card, provides information on payment and cut-off date, transfers money between accounts and is capable of offers many other details of your clients' accounts.
If you want to know how ATOM can help your financial institution or bank, contact our team here.